Kimberly Synder's tips on maintaining healthy gut bacteria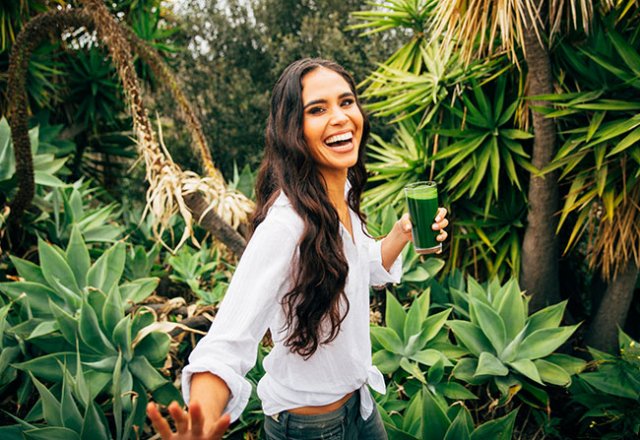 Our cover star shares all.
Key ways to improve gut health, continue ongoing cleansing and keep your body detoxed and healthy long-term.
DRINK HOT WATER WITH LEMON
Drinking hot water in the morning with the juice of half a lemon squeezed in can encourage your bowels to let go and allow for more efficient elimination. This practice is also great for getting rehydrated after a typically dehydrating night of sleep and adding more vitamin C into your life.
TAKE PROBIOTICS
Probiotics helped me heal myself from chronic bloating, constipation and low energy/nutrient absorption, and have been of tremendous help to my clients. When it comes to probiotics, don't be fooled by all the high culture counts. What counts is being aligned with Mother Nature. Our ancestors all used to eat some soil on carrots and other vegies pulled right from the garden, and they didn't have running water to scrub everything. That soil contains the perfect mix of bacterium to balance the soil, and also our guts, as it did for our ancestors. It is also hearty enough to survive our stomach acid and become resident-forming in our guts, so it doesn't need to be refrigerated.
EAT FIBRE-RICH FOODS
Fibre sweeps out waste and helps regulate your blood sugar levels. To increase your fibre, eat more vegies and include them at all meals, as only plant foods contain fibre. Just remember that when you do increase your fibre, it's common to get bloated at first, as your body adjusts to you ingesting much more. Be sure to drink lots of room temperature water in between meals to help combat this.
EAT SLOWLY AND DON'T OVEREAT
The latter probably seems quite obvious, but if you scarf down your lunch while hunched over your computer, you may find that eating quickly has a sneaky way of contributing to overeating. Slow down your consumption and you'll leave the space in your stomach needed to break down foods, which can help abate bloating.
CHOOSE YOUR VEGIES WISELY
Brassica or cruciferous vegetables like broccoli, cauliflower, Brussels sprouts, and leafy greens are fantastically high in nutrients, but can be particularly gas inducing due to the sugars and starches they contain.
STEAM YOUR VEGIES
If your system is rebuilding, try steaming your vegies instead of eating them raw. This can help break down the fibre and make them easier to digest.
USE SPICES STRATEGICALLY
Boost sluggish digestion with spices like turmeric, cumin, black pepper, and ginger. You can sprinkle these spices into stir-fries, soups, and salad dressings, or try adding them to hot water and make your own spiced tea.
TIME YOUR MEALS
Try waiting at least three hours between meals. Also, try simplifying your meals by using less components to ensure that your body can break down and digest your meals efficiently and completely.
TAKE DIGESTIVE ENZYMES BEFORE MEALS
These are capsules you can take to help your food break down more efficiently and support better digestion and assimilation. Proteases break down proteins, lipases break down fats and amylases break down carbohydrates.
SOAK BEANS, LEGUMES, AND GRAINS OVERNIGHT
These foods contain sugars called oligosaccharides, enzyme inhibitors and phytic acid, which bind to essential minerals and inhibit their absorption. Soaking can help deactivate these substances, which in turn assists in preventing bloating while improving nutrient absorption.
Grab the August-September 2017 edition of Australian Natural Health magazine to read her full cover story.
Rate This