Hit the track Bushwalking for health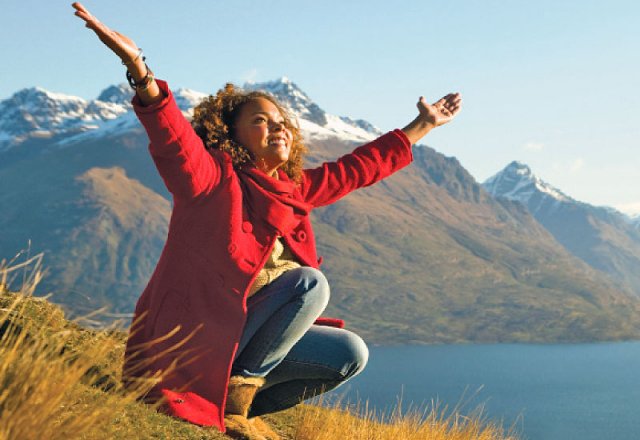 The weather may be somewhat cooler, but there's still plenty of opportunity to escape to the outdoors and enjoy some serious hiking.
Emma Krieger pulls her boots on and gets walking.
From the ages of five to 15, three times a year between term breaks, my dad would take my sisters and me camping to Wilsons Promontory National Park in Victoria, or The Prom as it is affectionately dubbed.
We'd complete The Circuit, a 44km trail walk over three days, which takes in pristine beaches, rainforests, rugged bush land and a gruelling climb to the Prom's highest point – Kersop Peak.
On my first circuit trail, I dutifully carried a small backpack with my clothes and my teddy bear, until I was old enough to be saddled with my own sleeping bag, tent and supplies.
While for nearly 10 years I happily trotted along on each expedition, at 15 I put my foot down, opting instead to stay home and loll on the beach with friends or go shopping, as teenagers tend to do.
Despite that temporary diversion, Dad definitely passed on his love of the bush, hiking and camping, and it wasn't long before I rediscovered my passion for bushwalking.
Bushwalking is one of the best exercises you can do – it's physically demanding, it's great for cardiovascular and muscular health, and it gives you time to commune with nature.
Sure, mid-week, for urban dwellers, finding a bushwalking track is a Burke and Wills-like expedition, but despite the current colder weather, weekends or short holidays offer the perfect opportunity to escape the city and exercise in the great outdoors.
Why you'll love it
The joy of bushwalking is that it doesn't feel like exercise. You're so busy taking in your surroundings that you barely notice your exertion.
"Bushwalking is different from simply walking for exercise because an integral part of the bushwalking experience is taking in the natural environment through which you walk – the flora, fauna and scenery," says Chris Towers, president of Bushwalking Victoria.
Dorothy Dhaeze, a keen bushwalker and a member of Victoria's Boroondara Bushwalking Club, agrees.
"If I am walking on a track somewhere, I just feel so good," she says. "Walking is so therapeutic because you don't have to talk to people if you don't want to. Because you don't have to do anything else, your brain has a chance to focus on other things."
Physically, as the landscape is so often changing, your body is constantly tested in varying ways, offering a more 'interval-type' training as opposed to the standard (and somewhat boring) 30 minutes on a treadmill.
"Bushwalking can involve physical challenges such as climbing a mountain, crossing a creek or scrambling over boulders, and also mental challenges such as reading a map or navigating a course where there are no tracks," Chris says.
He does warn, however, to have a reasonable level of fitness before embarking on anything too strenuous.
"While bushwalking is within the physical capabilities of most people, you'll do better and enjoy it more if you are fit before you go," he says.
"The exercise you need to do beforehand is the kind that builds up your heart and circulatory system: walking, climbing stairs, swimming, cycling and jogging."
What to wear
It goes without saying – you'll be doing a lot of walking, so comfortable and well-fitting footwear is first and foremost. Also be sure to wear footwear that's appropriate for the terrain and season. That is, wear breathable, durable, water resistant and supportive lightweight boots for two to three day walks with light to moderate backpacking loads. Wear sturdy, full-grain leather boots for moderate to rough terrain walks with moderate to heavy backpacking loads, mountaineering or glacier travel.
Speak to sales staff wherever you buy your walking gear, as they will be able to guide you on what sort of footwear is best suited to your needs.
When it comes to clothing, again terrain and weather will dictate what you pack.
"Your clothing is so important since it is your first line of protection from the cold, the wind, the rain, the sun, insects, snakes and the scrub," Chris says.
"When choosing your clothing for a specific trip, make allowances for dealing with the expected terrain and the worst weather conditions that may be encountered in the walk area."
Layering is a perfect way to dress, particularly on top. Thermal tops (and bottoms for the colder weather) are great – both lightweight and warm and are also great to sleep in. Thick socks will protect you from blisters, while a pair of gaiters will protect your legs and prevent gravel and earth getting into your socks.
Dorothy particularly cautions about having the correct clothing during the extreme colder conditions.
"Winter camping and hiking can be a wonderful experience, but it's important to protect certain parts of your body that are susceptible to the cold," she says. "That particularly applies to your head, which is very vascularised (that is, it contains lots of blood vessels, so you can lose lots of heat there, up to 70 per cent in fact) and your hands and feet, both of which are susceptible to frostbite."
What to pack
"A rule of thumb when bushwalking is to pack lightly, but pack well," Chris says. "The only thing you should take too much of is water."
And along with your walking shoes, your pack must also be just as comfortable.
"Make sure your pack has sturdy shoulder straps, which have good padding and curve to fit the body; cheaper packs may well have straight straps which will cut into your shoulders and chafe your collarbones. Make sure that the zips are strong and durable, the thicker the teeth the better," Chris says.
"Ensure the pack has a strong and comfortable waist strap, which takes much of the weight off your shoulders.
"Other things to look out for are an unwieldy shape and good quality material." NH
Rate This