6 health benefits of bone broth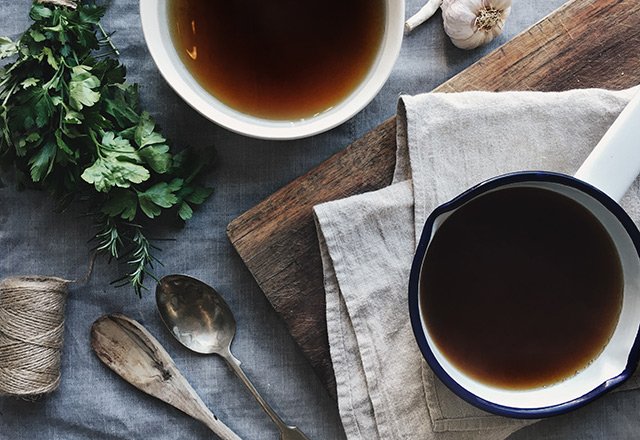 Sally O'Neil investigates why it's one of the fastest growing liquid trends.
Forget expensive superfood powders, juices and elixirs. This is one your grandma used to make – no fancy equipment or ingredients required. Discover six benefits below.
1. It's packed with skin- and hair-loving collagen
This is the ingredient you'll find in moisturiser that helps smooth out wrinkles. Rather than paying an exorbitant price to rub it on your face, bone broth contains a far more accessible form of collagen. Increased collagen levels are reported to help your skin look firmer with a reduction in fine lines. It also helps skin cells renew and repair as required.
2. It's good for joint health
Eating more collagen is like greasing a creaky door hinge: it's reported to help joints move more easily, reduces joint pain and reduces the risk of joint deterioration. Beware of glorified claims here, though; just as the dietary fat you swallow doesn't directly translate to body fat, swallowing collagen doesn't instantaneously become collagen between your bones.
3. It heals the gut lining
If you suffer from leaky gut syndrome, a condition where bad-for-you toxins are able to pass through your digestive tract, the glutamine found in bone broth can potentially be helpful. Glutamine is said to help maintain the function of the intestinal wall, preventing this damage from occurring.
4. It boosts your metabolism and energy
The glycine in bone broth is said to help pump sugar into your body's tissue to increase energy levels. It is also known to benefit muscle development by increasing levels of creatine and regulating human growth hormone secretion from the pituitary gland. This in turn makes for a healthy basal metabolic rate. Combine this with vitamin C to ensure your body can convert the collagen into a useable protein that can begin to restore the source of your energy and vitality.
5. It improves digestive issues
Bone broth contains amino acids that can aid digestion. One is glycine. It stimulates the production of stomach acid, which helps with digestion and it helps the liver remove toxins from the body. Glycine is required for the synthesis of the most important antioxidants the body makes. It also helps regulate blood sugar levels by controlling gluconeogenesis (the manufacture of glucose from proteins in the liver).
6. It fights colds and flu
A study published in the American Journal of Therapeutics found that carnosine, a compound found in many recipes for chicken soup, can indeed mobilise the immune system to fight the early stages of the flu.
Disclaimer
It's important to note that self-treating a condition with bone broth may have serious consequences. If you're considering the use of broth in treatment of a condition, consult your primary
care provider.
Words by Sally O'Neil of The Fit Foodie.
Image by Nutra Organics.
Rate This