10 ways to get moving at work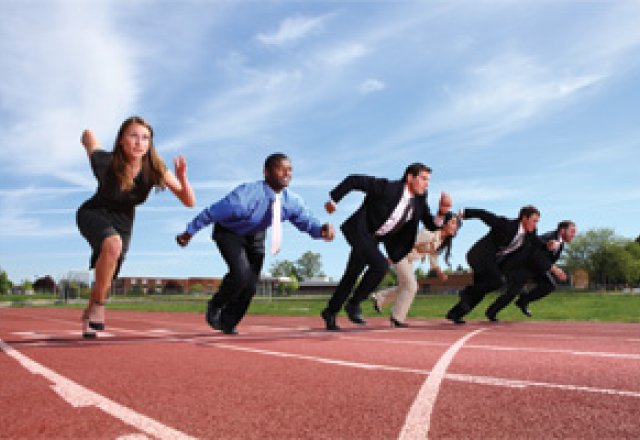 Charmaine Yabsley investigates
Research into office-based, call centre and retail employee behaviours revealed that 77 per cent of their working day is spent sitting. And this has long-reaching effects on our health in such ways as obesity, heart problems, depression and diabetes
1. Every little bit counts
According to the Australian Government's Get Moving initiative, it's best to do an hour or more of physical activity every day, especially some that makes you huff and puff a bit. This is easier than it sounds as you can spread out that hour over the whole day. And it can be made up from a mix of different activities. "If you're not very active at the moment, start off gradually with activities like brisk walking or bike riding and build up to 30 minutes a day," advises the initiative. "Once you can manage that, try to build your time up gradually to 60 minutes or more. Also, try to do a mix of moderate and vigorous activity."

2. Set a challenge
"Group sports are a good way to get and remain motivated," says Chris van Hoof, owner of Chisel Fitness. "Even at your desk, it's possible to get moving often. Set up group lunch walks, table tennis tournaments or football teams. You've got a ready-made team for sports right in your office, so make the most of it."
3. Step Up
"Walk up a couple of flights of stairs every hour. You can even set up a competition between your colleagues. Who can reach 100 flights by the end of the week? By making it a friendly competition, you'll be more likely to stick to the goals, and it'll help create a stronger working environment too," says van Hoof.

4. Equip yourself
"It's imperative for employees to take regular activity breaks from their workstation," says Dr. Jarrod D Meerkin, director of MeasureUp. "For example, taking the stairs instead of the lifts or introducing five-minute activity breaks each hour that could encompass getting a drink of water. However, these may only amount to small increases in total energy expenditure. Employers may need to invest in stationary bikes in the workplace for more vigorous bouts of exercise." Professor of Physical Activity and Population Health at Central Queensland University, Kerry Mummery, concurs. "Research shows that workplaces that support physical activity improve employee productivity and morale. In addition, a physically active workplace is likely to increase job satisfaction and cut down on absenteeism and stress levels of workers."

5. Stand up
Sitting down all day not only adds the pounds, but can also lead to poor posture and lethargy. Make a concerted effort to stand as often as possible; whether it's to go and chat to somebody rather than emailing them, or using pages onto a printer on the next floor, your body will thank you for it. In a recent study, more on-the-job standing and walking led workers to lose an average of four kilograms and lower triglyceride levels by nearly 40 per cent in six months.

6. Keep standing while you're on the phone
Pace or march in place and you can blast about 225 calories for every hour you remain standing throughout the day. According to recommendations from the Stand Up Australia initiative, office workers should be introduced to, "strategies which might include standing up while talking on the telephone or using a telephone headset to keep moving during phone calls."

7. Walk and talk
Rather than sitting at a table for your meeting, head to the great outdoors. Even if you're going to have a coffee to discuss the final details, choose somewhere at least 10 minutes away. The fresh air, physical activity and change of scenery may even throw up some great new ideas and solutions.

8. Make your loo breaks work
Possibly the easiest way to stretch your legs and tone up is if you use the toilet facilities on the next floor. Using the stairs is the easiest way to strengthen your thighs and burn calories. In a paper published in Nature magazine, researchers report that, "stair climbing is a lifestyle physical activity that uses more calories per minute than jogging." Need more incentive to forgo the elevator? A latest study conducted by Swiss researchers found that people who use the stairs regularly have better fitness, less body fat, slimer waistlines and lower blood pressure.
9. Stretch
After a day hunched over your desk, rather than heading straight to those after-work drinks, take five minutes to stretch the stresses of the day away. "Five minutes of stretching at the end of a workday or a workout session does make a difference," says personal trainer Amelia Burton ameliaburton.com.au. "Even if it's a short stretch session, still do it. It releases tight muscles, encourages blood flow and relaxes your parasympathetic nervous system, which is responsible for regulating your stress hormones. Pick one day per week as your big stretch day. It could be a yoga, Pilates or stretch class, or a program put together by a trainer. It should last for 45min to 1.5hr and stretch your entire body. Always exhale as you increase the stretch of a muscle. It's during the exhalation that your body is more relaxed, so you will be able to stretch it that little bit further."
10. Invest in a pedometer
By walking 10,000 steps a day and working out in the gym three times a week, you can give your employer an extra $2500 worth of productivity a year, an Australian clinical trial has found. In addition, you can add five years to their lifespan in the process. "Work may seem like the last place we need to think about being physically active, but in fact work is one of the places where we have lost much of our activity compared to previous generations," says a spokesperson from the 10,000 Steps initiative 10000steps.org.au.
"For many of us, we are victims of our own relative success," says Professor Mummery. "As our careers progress, gone are the days of physical labour, replaced instead by hours sitting at a desk and in front of a computer. As we gradually and systematically have the physical demands in the work environment reduced, we must replace this activity or face the related threats to health.
So, what are you sitting down reading this for? It's time to get moving!
Next: Unwind after a stressful week at work and develop your confidence!
Rate This