Tomato and herb wontons
A delicious, easy and popular party snack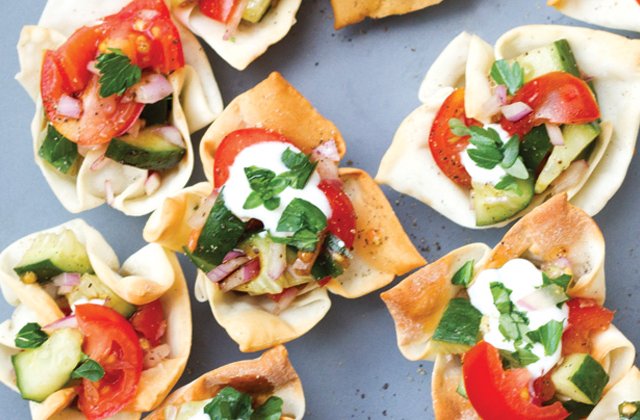 These little wonton numbers are the perfect way to showcase your tomato and herb harvest
Ingredients
24 wonton wrappers

250 gm cherry tomatoes (approx 22), quartered and/or roughly chopped

1 small Lebanese cucumber, diced

Handful of fresh garden herbs (basil, coriander, parsley), chopped

¼ small red onion finely diced and a handful of chopped spring onions

Good quality salt flakes,

to taste

Freshly ground black pepper,

to taste

Optional: drizzle of olive oil and/or squeeze of lemon juice
Method
Preheat oven to 180°C.
Brush or spray 12 mini muffin tins with cooking oil.
Place wonton wrappers in muffin holes and press to mould into cups.
Bake for 8 – 10 minutes until lightly brown and crispy.
Remove from oven and set aside to cool.
* During baking, check cups to ensure the wonton edges do not collapse, if so, adjust with a wooden spoon.
Combine salad ingredients. Place in strainer to drain any excess juices. Spoon the salad mix evenly into cups. Add topping of choice and serve immediately.
Notes: For this recipe I used mini muffin tins. Larger muffin tins can be used but line each hole with two wonton wrappers so the corners are staggered. Adjust salad ingredients, as cups will be larger. Wonton wrappers can be found in the refrigerated section of most Asian supermarkets.
Topping and base layer ideas:
Guacamole (see recipe)

Drizzle of balsamic glaze (see recipe)

Crushed wonton strips (see recipe)

Chopped fresh mini mozzarella balls

Chopped Kalamata olives

Crumbled goat's and/or feta cheese

Dollop of natural yoghurt and/or sour cream
Guacamole
2 medium avocados, diced

Juice of one lemon

1 tomato, finely diced

2 garlic cloves, minced

Salt flakes, to taste

Freshly ground black pepper, to taste

Optional: freshly chopped chilli, to taste
Place all ingredients in a bowl and roughly mash with a fork.
Herby Balsamic Glaze
1 ½ cups good quality balsamic vinegar

A few sprigs of fresh herbs (rosemary, thyme, oregano)
Place balsamic vinegar and herbs in a small pot and bring to a rolling boil. Reduce to medium heat and simmer (small bubbles should appear on the surface) for 20 to 25 minutes until vinegar reduces by half. Vinegar should become thick enough to coat the back of a spoon. Remove from heat and pour through a small strainer into heatproof jar or bowl to remove sprigs.
Set aside to cool. It will continue to thicken as it cools. Store in an airtight container for a few weeks.
Baked Wonton Strips
Use any leftover wonton wrappers to make crispy wonton strips. Add to your favourite salads to give them a crunchy kick.
Preheat oven to 180°C. Cut wonton wrappers into ¼ inch strips. Lightly brush or spray with oil, place on baking tray and bake for 8 – 10 minutes, turning once until lightly brown and crispy.
Browse more recipes or connect with us on Facebook.
Recipe by Rosie Percival; Photo credit: Jessica Symonds
Rate This