Goat's cheese tart with butternut pumpkin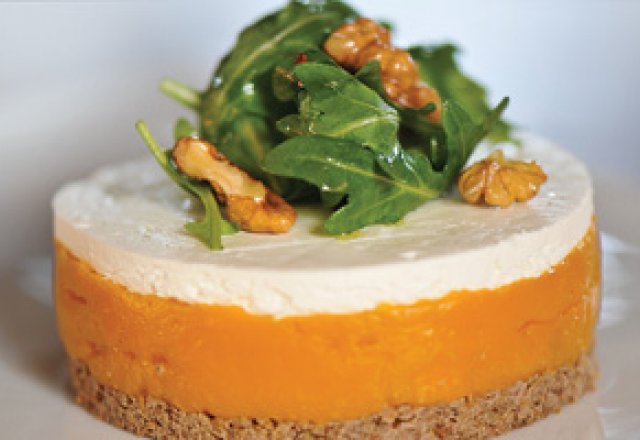 Prepare a tasty treat for summer
This recipe can be prepared up to 3 days prior and assembled before serving.
Ingredients (4 serves)
5 cups of diced and peeled butternut pumpkin
1tbs honey
1 preserved lemon
300 grams fresh goat cheese
4 slices of organic pumpernickel bread, toasted
1 handful of rocket
Freshly-shelled walnuts
2 tbs olive oil
1 tbs lemon juice
A pinch of sea salt
Method
Place the pumpkin pieces into a steamer and steam until just cooked through. Lift onto a plate and allow the steam to evaporate until the pumpkin is dry. Once at room temperature, place into a blender. Wash the preserved lemon well, dry it, add to the pumpkin and blend into a fine puree.
Divide the goat cheese into four cake rings, smoothing onto traditional grease-proof paper. Chill in the fridge.
Place the toasted pumpernickel bread into a blender and mix to a crumble. As with the goat cheese, press into four circles (use a cake ring to assist) on your four serving plates.
Top each circle with some of the pumpkin puree and lay the circles of goat cheese, smooth side up, on top.
Mix the rocket salad with nuts, olive oil, lemon juice and salt and place a small amount on top of each tart to serve.
Browse more festive recipes or join the chatter on Facebook!
Rate This